Shoin-ji Temple and Kotengu Seizo
Statue of Kotengu Seizo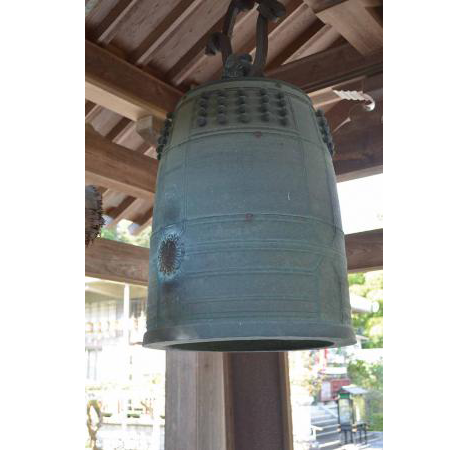 (Temple bell) Prefecturally-designated cultural property
Many valuable cultural properties remain at Shoin-ji Temple, including a wooden seated statue of Kokuzo Bosatsu (a national important cultural property), a wooden standing statue of Sho-Kannon (a prefectural designated cultural property), and a statue of Niten-zo. It is also famous as the place of death of Kotengu Seizo, an accomplished practitioner of Shugendo religion deeply involved in ninjutsu (ninja skills).
Kotengu Seizo was born in Yamade of Iga Province during the Warring States period. He entered the sacred grounds of Shugendo at Omi-koku Hando-ji Temple where he practiced Shugendo. He later based himself at Atago-yama Kyoun-in Temple to rebuild shrines and temples that were destroyed by fire during the Tensho War such as Aekuni-jinja Shrine, Ide-jinja Shrine, Inoda-jinja Shrine, and Shoin-ji Temple in Yamade.
In 1598, he donated a large Yugama (pot to boil water) for use in rituals to the Aekuni-jinja Shrine, thereby reviving a long-discontinued event, and devoted himself to the restoration of temples and shrines that had fallen into disrepair.
Shoin-ji Temple

Access

35-minute walk from Idamichi Sta. of Iga Railway

TEL

0595-21-3559

Address

1658 Yamade, Iga City

Parking

Available